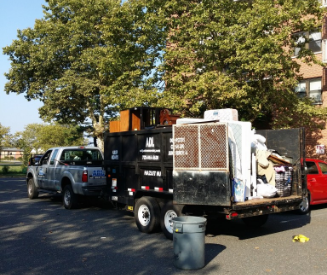 Selecting a contractor for Monmouth County cleanout service isn't always the most simple task. You want to pick the best service provider possible to fit your budget and give you peace of mind. Monmouth County cleanout service can be a big job depending on how much junk you need removed from your home. Here are some signs of a good Monmouth County cleanout service.
Signs of a Good Monmouth County Cleanout Service
The contractor provides free, on-site estimates for Monmouth County cleanout service and junk removal. A quality junk removal company will not give you an estimate over the phone for this type of work. They will come to your property and work with you to determine the scope and potential volume of debris that will be produced. Estimates for Monmouth County cleanout service should include all phases of the junk removal work including any fees for disposal.
They offer recycling and donation of items as well as disposal. It's one thing to pick up furniture, household debris, and trash to be hauled off a local landfill. It's another thing altogether to have processes for placing usable items at local donation centers and recycling as much as possible.
They offer both one-time and recurring junk removal and cleanout services. Larger properties and certain foreclosure situations can generate debris in amounts that may require a number of scheduled clean out services & junk pick-ups over a period of time. In addition, depending on the location of the property and the nature of the sale, periodic clean outs may be needed for aesthetic and public safety reasons because of remodeling or construction.
They can be on-site when needed and quickly complete the Monmouth County cleanout service. Since many sales are time-sensitive and often have limited windows of time to allow for junk removal and Monmouth County cleanout service, a company offering these them should be able to respond quickly, work quickly, and complete the task within the required time frame allowed. Flexibility and efficiency are the true marks of a professional junk removal company.
The debris is properly disposed of? Your local agencies, as well as the Federal and State agencies, have specific requirements for the proper handling and disposal of various materials and substances. Whoever is tasked with removing and disposing of household debris must be knowledgeable in this area. Professional firms will make use of the proper disposal sites and methods, while recycling as much of the materials as possible.
Looking for the Best Monmouth County Cleanout Service?
ADL Junk Removal offers professional junk removal and cleanout services to the Monmouth County area in towns such as Hazlet, Aberdeen, Spring Lake, Holmdel, Aberdeen, Belmar, Dayton, Rumson, Red Bank, Freehold, Howell, Little Silver, Long Branch, and many more. Contact them today at (732) 865-5630 or visit the website.
Other Posts: