If you have ever remodeled part of your home, moved, or ever did a serious spring cleaning, then you have probably needed a dumpster at some point in your life, and if not, then you have spent a lot of trips to the dump. A dumpster is the fast and easy fix to your disposal needs. There are a few tips to keep in mind when shopping for your Monmouth County Dumpster Rental needs. Here are 4 tips for renting a dumpster!
Monmouth County Dumpster Rental | Rental Container location!
Always be sure to have space cleared for your dumpster rental! A 40 yard roll off dumpster measures approximately 22 feet long and eight feet wide, so you need to be sure to either make room for your rental ahead of time, or if needed, measure and pick a smaller dumpster which you are able to accommodate. So always be prepared with the space for your rental as well as making sure the driveway is clear for the drop off.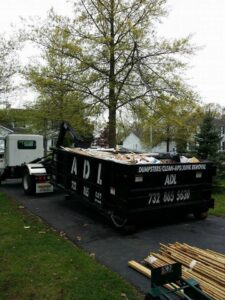 Be Wise With Size!
The main roll off dumpster sizes are 10, 20, 30 or 40-yards, and sometimes it can be hard to figure out just the right size for your particular job. The best rule of thumb is to aim a little bigger than what you think you may need for your clean out, or junk removal. It's better to have something with a little room left over, rather than run into overage charges or even needing a whole another rental. To give you a better idea of the sizes, a 10 yarder is good for smaller jobs like cleaning a small garage, to a 40 yarder which is more for bigger remodeling jobs.
Follow The Guidelines!
When renting a dumpster always be sure to go over and follow all restrictions and guidelines as to what you are allowed to dispose of in your container. Some items that are not allowed to be thrown out include car batteries, paint, oil, flammables, tires and Freon. It's always important and considerate to let the rental company know exactly what materials you plan to throw away in your rented container. There are a lot of companies that don't want you mixing certain materials, such as concrete, with household items or other construction waste. So it is always a good idea to check ahead of time with the company what their policies are.
Make a Plan!
You never know how many containers a company owns, let alone how many of each size, so it's always best to plan ahead. Make sure to follow the other tips above to make your clean out, remodeling project, whatever it may be, as smooth as possible. Such as, making space for your rental, measuring to make sure you have the room for whichever size you need, and of course deciding on the right size for the job. If you know the size, and have the space, then you want to reach out to your chosen company ahead of time to make sure what you need will be available when you need it. So, be sure to have your plan laid out so that your rental can be secured for your disposal needs.
Monmouth County Dumpster Rental | No Better Dumpster!
If you are planning on remodeling, or cleaning out your house please do not hesitate to call ADL Demo to meet all of your disposal they are a family fully licensed disposal company centered  in the Hazlet Middletown area, but they serve all of central NJ including Monmouth, Ocean, and Middlesex county. They provide their customers with affordable, quality service that will leave them completely satisfied. Contact ADL demo for a free estimate for Monmouth County Disposal- Junk Removal Service.
Other Posts:
Monmouth County Dumpster Rental