Is it time to clean out your garage or shed? Do you need help from a professional junk removal clean out service? If affordable Middlesex County cleanup services are on your mind, why not discover the answer so many are talking about? The trouble with trying to tackle the job bit by bit is in keeping motivated to get it done. With professional help not only will it get done, but the entire process will be painless for you. Maybe the time has come to begin uncluttering your life, or setting a spring cleanup record.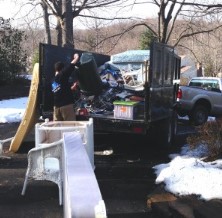 Affordable Middlesex County Cleanup Services | A Brand New Shed?
The process of removing clutter from a shed may help you find something that has been missing for years; your shed. If you bought the shed new, or moved into a home and used it as overflow for everything that wouldn't fit in the house, it might be time to repurpose the building. It isn't easy cleaning up clutter and we can find ourselves reorganizing again and again. The solution of course is to get rid of what we don't need because in reality we need the shed for storage of useful items.
Garden tools or tools in general can only be used if we can find them. Bury them beneath enough stuff and suddenly we find the need for more motivation just to get our hands on the tool we need. What about all the things that need proper disposal, or have to be recycled for environmental reasons? Isn't it easier to entrust professionals who have to deal with these items every day? At the end of the day we just want it gone and of course our shed back.
Calculating Junk by Volume
You may know that you can't move around in your garage or that your car no longer fits, but how big a haul is really in there? What makes it worse is when the material is spread out between the attic, basement and outdoors. Can it be rounded up and measured? And where will that mess be? The truth is that you might need help just assessing how much work is involved in the cleanup effort.
Moving is usually the biggest cause for expedient cleanup and for good reason; no one wants to take junk to a new home. Equally no one wants to see a prospective new home full of clutter. It can be hard to show a home that can't be seen through the debris. An empty attic, basement and garage will appear bigger so consider making the call before starting to show the home.
Affordable Middlesex County Cleanup Services | A Healthy Clean
Storage is usually a messy business. The storage area isn't subject to the same level of cleanliness that we expect from the rest of our home. Typically the items in storage are prone to gathering dust if not mold and mildew. Taking special care of storing valuables isn't always easy for home storage. Even if we have special vacuum sealed containers in a storage area, it isn't very often they get wiped down. To properly clean the storage area itself, it must be finished with floors, walls and ceilings.
Outdoor storage areas tend to get even filthier over time. Insects and small rodents can gain access making the situation even worse. Fortunately you can call the premier Middlesex County cleanup services to address all of your junk removal needs. Has it been a while since you completely emptied that garage or shed? You don't have to tackle it alone. Give us a call at (732) 865-5630 today and set up an appointment.
Other Posts: