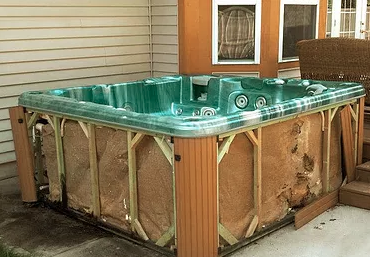 Do you have an old or broken hot tub that's just been sitting around at your Monmouth County NJ home? Have you attempted removing it yourself but had trouble even budging the thing? It may be time to look for a Monmouth County hot tub removal company to help out. A professional Monmouth County hot tub removal company will have all of the tools and muscle necessary to safely get rid of your hot tub. However, finding the best company for the job isn't always easy. Below are some tips on choosing a good Monmouth County hot tub removal company:
Choosing the Right Monmouth County Hot Tub Removal Company
Check Reviews:
The best way to gauge a company's reputation is to check their reviews. Sites like Google, Angie's List, Yelp, and Facebook are a great way to get started. Some companies will also have reviews on specialty sites. If you find a Monmouth County hot tub removal company that responds to their customers' reviews, it's a very promising sign! On top of doing the job well, they also have great customer service.
Ask Questions:
Whether you call, email, or reach out on social media, get in touch with the company. Remember to ask for details on pricing, and any ongoing promotions.
Do More Online Research:
A lot more than company reviews are posted online. Today, successful companies need social media presences. If you're interested in hiring a Monmouth County hot tub removal company, but you can't find their Facebook, Twitter, Instagram, or company webpage, this is a red flag. Additionally, you can check out their equipment, find before and after pictures, and see how they interact with their followers. All of this will help you decide if a company is reputable or not.
Learn About Their Employees:
No one can tell you more about a company than its employees. If possible, learn what you can about hiring policies.
Looking for a Great Monmouth County Hot Tub Removal Company?
ADL Junk Removal has offered demolition services, junk removal services, hot tub removal services, and dumpster rentals to the Monmouth County, NJ area for many years. If you would like more information concerning our dumpster rental or any of our other services, call ADL now at (732) 865-5630 or visit the website.
Other Posts: