Are you looking for a professional and reputable company for Monmouth County demolition services? There is a lot more to demolition services than banging things down with a sledge hammer. On the outside, it may look like it is easy to tear down a building using large tools. However, there is a lot of planning that goes into the process, ensuring that the operation will run smoothly. There are permits that need to be arranged, safety concerns that need to be addressed, and a timeframe for project's completion. Unfortunately, there are many Monmouth County demolition companies out there, and not every one will get the job done right at a reasonable price. Because of that, here are some things to put into consideration when you are looking to hire a good Monmouth County demolition company:
Things to Look for When Choosing a Monmouth County Demolition Company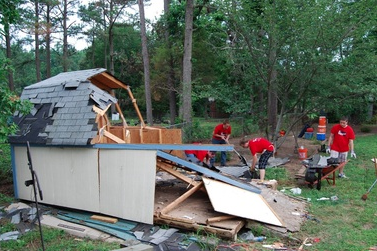 The company has certifications, licensing and insurance: This is one of the most important things to verify before hiring anyone who will be using heavy machinery on your property. You will want them to be properly trained, licensed, and insured. While you don't want any accidents, you also don't want to be held liable for any unfortunate events. Ask for proof of the correct certifications, licensing and insurance required to keep you and them protected.
They have a decent amount of experience: The more experience a Monmouth County demolition company has, the better. That means they have already worked out the kinks of their work process, their equipment, and local building codes on someone else's dime. Talk with the Long Branch demolition company to find out how much experience they have doing the type of job you are specifically needing done.
They can give you a lot of references: Asking for references early on can help you determine more of what it will be like to work with that Monmouth County demolition company. You will have an opportunity to hear what it is like to work with them. Ask questions such as the following: How long did it take for the job to get done? Was the company professional and communicative? What is the quality of work that was done, are you happy with it? Were there any hidden or unexpected fees? Asking any of these questions to multiple references can help you in making the right choice.
They clean up the mess after they're finished: Demolition is a very fun job until you have to begin cleaning up at the end. Any respectable Monmouth County demolition company should provide a service to pick up and haul away the rubble. If they can't remove it themselves, they should at least be able to let you know up front who they would recommend to handle it. The removal of debris should be planned out before the work begins. If not, it can create headaches for you if you're stuck waiting around until after demolition has started to plan for it.
They offer additional services besides demolition services: If you need a Monmouth County demolition company to knock down or remove an old property so that you can rebuild, the odds are you will need more services before your project is finished. Ask each demolition company about what other services they can provide. Being able to hire a Monmouth County demolition company for multiple services (such as dumpster rental, junk removal, etc.) throughout your project will save you time and possibly money.
Compare a number of different demolition companies: It's good to get at least 2 or 3 bids on the job to find the right fit for your needs. Always keep in mind that a very low bid is not necessarily the best option. Often times a good Monmouth County demolition company will charge a higher (but reasonable) price because they have better equipment and more experience. Also remember to make sure the estimate includes what you need it to. Does this price include clean up, or will there be extra fees later? Does the timeframe for the job work with the rest of your construction schedule? What is the Monmouth County demolition company's pricing policy on additional work that may come up during the project, such as asbestos removal?
Reasons to Hire a Professional Monmouth County Demolition Company
They will complete the project in a timely manner: When you're tearing down an old structure or just gutting a home for renovation, it's important to proceed with a plan. A good Monmouth County demolition company will be able to clear out debris while other work is going on in a coordinated effort that will get your project finished relatively quickly.
You don't risk your own safety: If you don't know what you're doing, demolition work can be extremely dangerous. It's easy to accidentally knock down important structural beams, break water pipes, or tear into your electrical system.
No mess afterwards: Renting a dumpster and carrying away all the debris can be an enormous task. Unfortunately, many people who try a DIY demolition don't realize how large the mess is going to be until it's too late. Rental prices can add up pretty quickly as well.
Looking for a Great Monmouth County Demolition Company?
ADL Junk Removal has offered demolition services, junk removal services, and dumpster rentals to the Monmouth County, NJ area for many years. Service towns include Hazlet, Holmdel, South Brunswick, Freehold, Manalapan, Colts Neck, Atlantic Highlands, Keyport, Asbury Park, Red Bank, Rumson, Fair Haven, Belmar, and many more. If you would like more information concerning our Monmouth County demolition, dumpster rental, and junk removal services, give ADL Junk Removal a call today at (732) 865-5630 or visit the website.