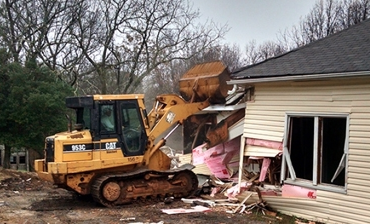 Are you in the Monmouth County NJ area and looking for demolition services in your local area? If so, it pays to research the company and know what to look for before you hire anyone. The problem with hiring just anyone for demolition services is that they can say they know how to do the job, but they may actually not. It is crucial that you choose a professional company to work on your residential or commercial property. Below are some things to think about to help you choose the right demolition company to help with your project.
Finding Good Demolition Services
What Type Of Experience Does The Company Have? Of course, experience is not everything, but it helps. Would you feel more confident getting demolition services from a company with ten years of experience or six months of experience? If you are concerned about the experience that a company has, you should continue to look around until you are happy with the previous jobs and experience the company has.
Does The Contractor Handle The Type Of Job You Need Performed? Demolition contractors can handle different types of demolition jobs. Some of the most common demolition jobs include debris removal, total or partial demolitions, and environmental cleanups. If you need to have a total demolition performed, but the company you are looking at specializes in debris removal only, then you may want to keep looking until you find a qualified contractor experienced in the area you need them to be.
Professionalism. It pays to call into the company a couple of times before you hire them to work on your property. This is because if the company or representatives are not helpful, snooty, or do not take an interest in your inquiries now, how do you think they will act once they are on the job? You want to work with a company that is ready to help you and provide you with the services you need.
What Does The Company Charge For Their Services? This is an important one because if you run into a company that has very low pricing, this is a warning sign. In fact, before you settle on a company, you want to receive multiple quotes and then compare them. Get rid of the ones that are too high or too low, as they may signal that there is a problem.
Looking for the Best Monmouth County Demolition Services?
ADL Junk Removal has offered demolition services, junk removal services, and dumpster rentals to the Monmouth County, NJ area for many years. If you would like more information concerning our dumpster rental or any of our other services, call ADL now at (732) 865-5630 or visit the website.
Other Posts: